A recap on Nintendo's secret E3 announcement. 
☆ NintendObs Weekly – Monday, June 20, 2016 – Sunday, June 26, 2016.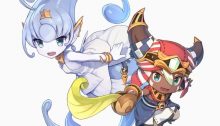 Explore the desert in Ever Oasis, a newly announced RPG for Nintendo 3DS!

Learn more about this upcoming adventure!

Version française ici : Explorez le désert dans Ever Oasis, un nouveau RPG sur Nintendo 3DS ! 😉

22/06/2016

Ever Oasis, a new action-adventure RPG for Nintendo 3DS family systems, was announced at E3*.

First, please take a look at this video.

The setting of Ever Oasis is a desert, and an oasis within it. The oasis has shops lined up side by side and is visited by members of various tribes, making it a lively place.

The central character of this game is the chief of this oasis. Along with the water nymph Isuna, he sets out to expand the oasis.

The chief has various duties. He must grant tribe members' requests, or forage for materials to make products to sell at shops. Sometimes he must also go out into the vast desert, which stretches out beyond the oasis.

A fearsome entity called Chaos dwells in the desert, and threatens the creatures that also reside there. Not only that, there are also many evil entities and mysterious caves to contend with. However, the leader of the oasis cannot always shrink back in fear. He combines forces with allies, who each have different skills or weapons equipped, and ventures out into the dangerous desert to nurture and protect the precious oasis.

We received a message from Koichi Ishii** of Grezzo who is working as producer and director of this game, so we'll introduce it here.

A message from Koichi Ishii

I'm very happy we were able to introduce Ever Oasis to you all.

This game is set in a desert. The lead character will venture out as chief of the desert oasis along with his partner, the water nymph Isuna, to expand the oasis.

There are several trials in the desert. The lead character will grow along with the many allies he meets as he passes through those trials and finds the path he must take.

Even in the real world, in various trials I think "unseen precious things" are noticed through involvement with other people.

I believe it's very important that we ourselves move forward while carefully considering, "What can I do?" or, "What should I do?" for those "precious things".

We're creating Ever Oasis with this thought built into the theme. I'm hoping everyone will feel that part through the adventures in this game.

Ever Oasis has been introduced on Nintendo Treehouse: Live, a programme that was broadcast from E3, and Mr Ishii also appeared on the programme. Be sure to take a look at the video!

Ever Oasis is scheduled for release in 2017.

Please note that all content, media and artwork are based on this software as shown during the Electronic Entertainment Expo in June 2016. Check out our Ever Oasis gamepage for further updates in the future! 

— Nintendo UK News
Source: Nintendo UK.
At NintendObserver, the comments are on Discord.
Click on Community to learn more. 🙂
…
…Wanna play? Buy a 3DS.
And if you've already got yours, click on Ever Oasis for everything you need to know about the game. 😀