Introducing the Aerospray PG. 
☆ NintendObs Weekly – Monday, June 6, 2016 – Sunday, June 12, 2016.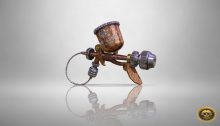 The Aerospray PG is best described as a little update to the Aerospray MG that Sheldon built from his grandpappy's blueprints. No matter how you describe it, it's definitely a hand-crafted work of art. Burst Bombs help claim turf and the Kraken crushes enemy defenses.

— Squid Research Lab
Source: Splatoon's Tumblr.
At NintendObserver, the comments are on Discord.
Click on Community to learn more. 🙂
…
…Wanna play? Buy a Wii U.
And if you've already got yours, click on Splatoon for everything you need to know about the game. 😀