I don't understand why NoA and NoE haven't said anything specific about this.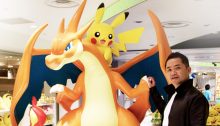 世界中のみなさんに
お知らせ!
A big news to everyone in the world!

2016年5月10日(火)21時頃
「ポケットモンスター サン・ムーン」の
新情報を公開します!!
New "Pokémon Sun and Moon" information will be revealed on May 10th, around 21:00 JST!

みなさん
お待たせしました!
Finally…

ようやく新しい情報を
お届けできます!
I can give you a brand new information!

お楽しみに!
Stay tuned everybody!

チャオ!
Ciao!

— Junichi Masuda
Source: Line Blog Masuda Junichi.
At NintendObserver, the comments are on Discord.
Click on Community to learn more. 🙂
…
And if you've already got yours, click on Pokémon Sun & Moon for everything you need to know about the games. 😀