Star Fox Zero, Star Fox Guard, Mario Party DS, Mario Party 2.

☆ NintendObs Weekly – Monday, April 18, 2016 – Sunday, April 24, 2016.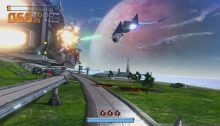 Click here for North America.
Wii U eShop

Wii U titles

Queens Garden (Joindots)
€6.99/£5.49

In a barren kingdom set atop a hill, there lived a king and queen, who likely live there still. The king was a caring man who loved to please his queen, his plan was to grow a garden bigger than there had ever been. You will cultivate a sea of bloom; fill the air with the breath of roses, from barren land to blossom – a sweet bouquet to royal roses. A perennial job for a seasoned grower – a garden for royalty. Apply within to serve the queen and be ever rewarded for your loyalty!

Star Fox Guard (Nintendo, available April 22)
€14.99/£12.99 (€9.99/£8.99 if you downloaded Star Fox Zero)

Use an array of cameras to protect Grippy Toad and his precious metal mining site in Star Fox Guard, only on Wii U. Slippy Toad's uncle Grippy is busy with the job of gathering rare metals in space, but he's having trouble – he's being attacked by all kinds of enemies! Use Slippy's new invention to ward off waves of enemies and get them to leave Grippy alone! Use 12 cameras, setting them up in various locations to find and attack any enemies that approach the mining site. Use the television screen and Wii U GamePad in tandem to work out where the enemies are, then blast them away! You can also edit the placement of enemies and upload these enemy patterns online so others can play your stage. You can play in new ways by collecting rare metals when you upload stages, and also get rare metals by playing other players' stages.

Star Fox Zero (Nintendo, available April 22)
€49.99/£39.99 (€44.99/£36.99 if you downloaded Star Fox Guard)

The Lylat System is in danger! Join Fox , Falco, Peppy and Slippy as you fight to protect the galaxy in Star Fox Zero, an epic 3D shooter only on Wii U. Lead the Star Fox team to exotic planets and into thrilling dogfights where you and your comrades will duke it out against the evil Andross' invading empire! In Star Fox Zero, you'll use an immersive control scheme that uses both the Wii U GamePad and the TV screen views to provide unique perspectives on the action. On the TV, you'll have a cinematic view of the action going on all around you. On the GamePad touch screen, you're given a cockpit view and an aiming reticle that allows you to line up your shots with precision using motion controls. As an ace pilot, try to execute advanced flight techniques, such as somersaults and barrel rolls, to take down enemies with ease!

Wii U Virtual Console

Mario Party 2 (Nintendo)
€9.99/£8.99

What do you do when your first party is a raging success? You throw another one, of course! Mario and all of his famous friends have long since RSVP'd for Mario Party 2, so you'd be a fool to miss this fiesta. Like the original Mario Party, this star-studded sequel allows up to four players to compete in exciting interactive board games packed with surprises. Mario Party 2 features six all-new multiplayer Adventure Boards, and a special Quest Mode for players who prefer to party alone. There are 64 action-packed mini-games in Mario Party 2. Most of these games present brand new challenges, and some are updated versions of the best mini-games from the first Mario Party. Mario Party 2 expands on the great visual style that was established in the original game. Each Adventure Board features a unique theme, and the characters dress differently depending on where they are playing. Nothing delivers more replay value than great multiplayer gaming, and Mario Party 2 has been developed specifically for that purpose. The first Mario Party was a hoot, and Mario Party 2 has enough atmosphere and new surprises to keep your shindig raging all night long.

Mario Party DS (Nintendo)
€9.99/£8.99

True to the franchise roots, Mario Party DS brings players together to roll through unique game boards, playing frantic and fun mini-games along the way. Mario Party DS features five brand new boards, 70 fresh mini-games and sweet 3D graphics. Mario Party DS features a full single-player story mode that throws you into battle against Bowser and his minions. In this game, Mario and his friends have been tricked by Bowser and then miniaturised. You'll have to return everyone back to their natural state by beating Bowser's followers on each of the five boards and then crushing Bowser in a final duel. This is one party you definitely don't want to miss!

Special offers

Family Tennis SP (Shin'en Multimedia) – €3.74/£2.99 (Ends May 12, normally €4.99/£3.99.)
Jones on Fire (Joindots) – €2.99/£2.29 (Ends May 5, normally €5.99/£4.59.)
Never Alone (Kisima Ingitchuna) (E-line Media) – €3.74/£3.24 (Ends May 4, normally €14.99/£12.99.)
Shadow Puppeteer (Snow Cannon) – €10.00/£9.00 (Ends May 11, normally €14.99/£13.49.)
Shovel Knight (Yacht Club Games) – €9.99/£8.66 (Ends April 28, normally €14.99/£12.99.)

Nintendo 3DS eShop

3DS titles

Animal Crossing: Gardening Weather (Nintendo, theme available April 22) – €1.99/£1.79
A Spring Animal Crossing theme featuring Isabelle, Leif and friends watering the flowers. See if you can spot Mr. Resetti, too!

Hatsune Miku: Paper Craft Theme (SEGA, theme available April 22) – €1.79/£1.59
Paper Craft Hatsune Miku and friends are here to greet you every day! No folding necessary. 

Dan McFox: Head Hunter (Lightwood Games)
€2.49/£1.99

Help Agent Dan McFox catch the suspects by spotting the right faces in a crowd in this fast-action puzzle game. Be quick and accurate to rack up high scoring point combos! Compete in online leaderboards and challenge other players via StreetPass. In Round Up mode, it's just you against the clock! Find as many suspects as you can in sixty seconds. In Mission mode, earn stars for each case you solve and work your way through 60 different cases to become a champion head hunter.

Langrisser Re:Incarnation-TENSEI- (Aksys Games, available April 19)
€34.99/£28.00

Langrisser Re:Incarnation -TENSEI- features Branching story paths that present themselves during battle based on the choices you make. Will your heroic deeds blaze a righteous path to glory or will your villainous treachery lead you down the road to ruin? The balance of the fates hangs heavy as your choices define the course of battle! 3 unique factions desperately need your command skills! Will you lead the Armies of Light to victory in the name of your Goddess? Will you side with the enigmatic forces of darkness and embrace chaos or will you take the reins of an ancient imperial juggernaut? Forge your legendary command skills in the fires of war! 100+ hours of gameplay ensure your war chest will never run low! Choose mercenaries from the guild, shop for stronger gear and gather tide turning items in your unending quest for tactical supremacy! An epic campaign, divergent battle routes and bonus secrets will push your strategic skills to the limit!

Demos

Pocket Card Jockey Demo (Nintendo)
Free

It's hard to imagine how Solitaire and horse-racing could be related – because usually they're not! Fortunately, this is about to change thanks to Pocket Card Jockey! In Pocket Card Jockey you'll play as a jockey who has to partake in a fast-paced version of Solitaire to propel your horse through intense races. As you clear cards you can earn unity power, which can be used to move your horse on the track, or unleash a boost in the homestretch. It's all about leveling up your horse through strategic positioning and placement on the track. As the level rises, your stats will increase and you'll gain bonuses, too.

Special offers

3D MahJongg (Joindots) – €3.99/£3.59 (Ends May 5, normally €4.99/£4.49.)
Carps & Dragons (Abylight) – €2.49/£2.24 (Ends May 21, normally €4.99/£4.49.)
Gardenscapes (Joindots) – €5.99/£4.49 (Ends May 5, normally €7.99/£5.99.)
Murder on the Titanic (Joindots) – €5.99/£4.49 (Ends May 5, normally €7.99/£5.99.)
Safari Quest (Joindots) – €4.99/£3.99 (Ends May 5, normally €6.99/£4.99.)
Shovel Knight (Yacht Club Games) – €9.99/£8.66 (Ends April 28, normally €14.99/£12.99.)
Shin Megami Tensei IV (Atlus) – €9.99/£8.99 (Ends May 5, normally €19.99/£17.99.)

Source: GoNintendo.
Click here for last week's European eShop Downloads: you might find some ongoing special offers, like Runbow. 
At NintendObserver, the comments are on Discord.
Click on Community to learn more. 🙂
…
…Wanna play? Buy a Wii U.
And if you've already got yours, here are all the games already available on the platform. 😀