Miitomo's EU release date announcement and a brand-new NoE storefront. 
☆ NintendObs Weekly – Monday, March 28, 2016 – Sunday, April 3, 2016.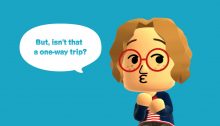 Miitomo launches in UK & Ireland on 31st March, alongside new My Nintendo service

Nintendo's first smart device app is a unique free-to-start social experience.

Version française ici : Miitomo et le service My Nintendo débarquent en France le 31 mars. 😉

29/03/2016

29th March, 2016 – Don't miss out on being a part of a Nintendo first! Throughout the day on Thursday 31st March, Miitomo, the company's first-ever smart device application, is rolling out in several countries across Europe*. Miitomo, which recently launched in Japan and has already passed one million downloads, is a free-to-start** social experience that lets users spark one-of-a-kind conversations with friends in a whole new way using Mii characters.

Getting started with Miitomo and being a part of this Nintendo milestone is easy. After downloading the app for free from the App Store for iPhone, iPod touch or iPad, along with Android devices, users create a Mii character and customise facial features like eyes and hair, as well as voice and personality. Users can also use the camera on their smart devices to snap a photo of themselves, which can be used to create a Mii, or they can simply import their Mii from their Wii U or Nintendo 3DS family system using a QR Code.

Once their Mii is ready, users can add friends who already have the app in person, or by linking the app with their existing Facebook or Twitter accounts. After that step is complete, it's time to answer some questions! Miitomo creates conversations and turns discussions into a form of play by prompting users to answer all kinds of fun questions. How would you define your fashion style? What's the strangest thing you've ever eaten? If you were given ten grand to spend in one day, what would you do? The answers get shared among friends, sparking interesting conversations – part of the fun is discovering unexpected facts about your friends. When users hear how their friends respond to questions, they can give answers, a "heart", or a written or picture comment.

To preregister for Miitomo, sign up for a Nintendo Account at https://miitomo.com before 31st March to receive an email when the app is ready to download*. People that create their Nintendo Account and preregister before 31st March will also receive Platinum Points for the new My Nintendo rewards programme***, which will simultaneously launch with Miitomo. My Nintendo is much more than a rewards programme: it's a comprehensive service that also rewards users for interacting with Nintendo products and services in a variety of ways. Miitomo users who link the app to their Nintendo Account will be able to take advantage of My Nintendo to enhance their experience. Platinum Points can be earned by interacting with Nintendo apps and services, including Miitomo. Gold Points are earned when purchasing downloadable games from the official Nintendo website or Nintendo eShop on Wii U and Nintendo 3DS. Both Platinum and Gold Points can be redeemed for rewards like games, download content, in-app items and Nintendo eShop discounts.

Users who sign up for a Nintendo Account before the end of April will also be able to download Flipnote Studio 3D to their Nintendo 3DS family system for free. To claim the download, users must link their new Nintendo Account to the Nintendo Network ID they use on their Nintendo 3DS family system, then use the download option on the Flipnote Studio 3D gamepage on the official Nintendo website between March 31st and April 30th.

In addition to Miitomo and My Nintendo, from the afternoon of 31st March users with a Nintendo Account and linked Nintendo Network ID will be able to purchase select Wii U and Nintendo 3DS software, using their Nintendo eShop balance, from the Nintendo of Europe website. The user's purchased software will then be downloaded via SpotPass and installed automatically****, ready for play the next time they pick up their system. This new purchase option serves as an additional resource to the Nintendo eShop on Wii U and Nintendo 3DS, and makes purchasing software and earning My Nintendo Gold Points even more convenient.

— Nintendo UK News
Source: Nintendo UK.
At NintendObserver, the comments are on Discord.
Click on Community to learn more. 🙂
…
…Wanna play? Buy a 3DS.
That being said, click on Miitomo for everything you need to know about the game. 😀