Squid cookies. 
☆ NintendObs Weekly – Monday, April 11, 2016 – Sunday, April 17, 2016.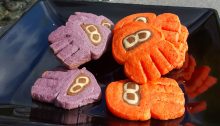 As a reminder, the Splatoon server will be going offline from 5:50 – 7:30 PM PT [Editor's note: Please note the updated timing. I blame Milton.] tonight to make way for updates! Now, we know what you're thinking: "What am I supposed to do for almost two hours?! I've never not played Splatoon for more than a 30 minute nap break!" Okay, so, you're probably not thinking that but boy do we have an answer for our overly hyperbolic theoretical question: make Inkling cookies!

— Squid Research Lab
Source: Splatoon's Tumblr.
At NintendObserver, the comments are on Discord.
Click on Community to learn more. 🙂
…
…Wanna play? Buy a Wii U.
And if you've already got yours, click on Splatoon for everything you need to know about the game. 😀