The Diablos Armor made into an actual, fully-articulated action figure.
☆ NintendObs Weekly – Monday, February 29, 2016 – Sunday, March 6, 2016.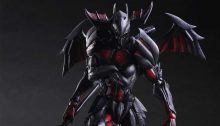 Play Arts Kai Tetsuya Nomura designed figure coming this March

FEB 29

Rad armor set conjured by renowned Square Enix designer Tetsuya Nomura escapes video game screens, comes to the real world this March!

You know, it was already pretty awesome that we were able to steal some time from Nomura-san's busy schedule for him to design 2 armor sets, 1 weapon and a Palico set for MH4U, so seeing this come out as a fully articulated, 11-inch tall figure is quite amazing.

The figure itself comes out at the end of March, but you can pre-order yours right now to guarantee you get one. =P

UPDATE: If you're based in the UK, you can actually enter a contest for a chance to win one of these bad boys. You can find the rules (+ a quick unboxing video) on the Capcom UK Facebook page.

North America – $199.99
Europe – €139.99

— Yuri Araujo at Capcom
Source: Capcom Unity.
At NintendObserver, the comments are on Discord.
Click on Community to learn more. 🙂
…
…Wanna play? Buy a 3DS.
And if you've already got yours, click on Monster Hunter 4 Ultimate for everything you need to know about the game. 😀