New Nintendo IP and icon of gaming team up to celebrate #Pokemon20. 
☆ NintendObs Weekly – Monday, February 15, 2016 – Sunday, February 21, 2016.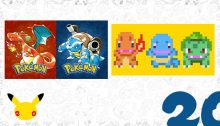 Splatoon and Super Mario Maker Celebrate Pokémon!

Look forward to a Pokémon-themed Splatoon Splatfest and Super Mario Maker Event Course!

February 11, 2016

The excitement of the Pokémon 20th celebration is spreading! In conjunction with the launch of the original Pokémon Red, Pokémon Blue, and Pokémon Yellow: Special Pikachu Edition in the Nintendo eShop for systems in the Nintendo 3DS family, exciting events are planned in two popular Wii U games. In Super Mario Maker, a new Pokémon-inspired Event Course is going live on February 12. Clear the Event Course to unlock Mario characters with the look of Charmander, Bulbasaur, and Squirtle.

Splatoon players should get ready for a Pokémon-themed Splatfest starting on February 20 at 1 a.m. ET! In advance of this fun event, visit Inkopolis Plaza inside the game to choose which is your favorite: Pokémon Red or Pokémon Blue! The Splatfest runs until February 21 at 10 p.m. ET.

Don't miss either opportunity to get in the Pokémon spirit in Super Mario Maker and Splatoon!

— Pokémon News
Source: Pokémon.
At NintendObserver, the comments are on Discord.
Click on Community to learn more. 🙂
…
…Wanna play? Buy a 3DS.
And if you've already got yours, click on Pokémon Red, Blue & Yellow for everything you need to know about the games. 😀