Just a reminder that the Cave of Shadows can only be challenged in wolf form. 
☆ NintendObs Weekly – Monday, February 15, 2016 – Sunday, February 21, 2016.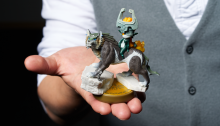 I've got some news about the new features in the HD remake of Twilight Princess. I'd also like to give you a good look at the Wolf Link amiibo.

This is the Cave of Shadows, a 40-level dungeon that you can unlock with the Wolf Link amiibo. The enemy won't drop hearts, and you can't hold a shield as a wolf, so… It's a bit different from when you're a human.

— Eiji Aonuma
Source: The Legend of Zelda's Facebook.
At NintendObserver, the comments are on Discord.
Click on Community to learn more. 🙂
…
…Wanna play? Buy a Wii U.
And if you've already got yours, click on The Legend of Zelda Twilight Princess HD for everything you need to know about the game. 😀