Honestly that's the most fun press release I've ever read. 😃
☆ NintendObs Weekly – Monday, November 16, 2015 – Sunday, November 22, 2015.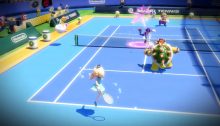 Nintendo Serves up Family Fun with Mario Tennis: Ultra Smash for Wii U

For the First Time Ever, Team up with Your amiibo Figure Online

November 19, 2015

In the Mario Tennis: Ultra Smash game, launching for the Wii U console on Nov. 20, up to four players of all skill levels will be able to volley, slice and lob with some of Nintendo's most classic characters using some outrageous powered-up moves. Jump high into the air and send the ball screaming down the court with the new Jump Shot, grab a Mega Mushroom to gain a HUGE advantage over opponents in Mega Battle (a mode new to the series) or execute an Ultra Smash, a devastating volley that can be difficult to return. You can even take your skills online and partner up with one of many compatible amiibo in online doubles matches.

Let's look in on a match in progress between Mario & Luigi and Princess Peach & Toad…

Love – Love: The match begins with a powerful serve from Mario, which is quickly returned by Princess Peach. Since the players chose to play this doubles match in Mega Battle mode, a new mode in Mario Tennis: Ultra Smash, the familiar Mega Mushroom power-up appears on the court. AND TOAD JUST PICKED IT UP! This match just got even more exciting! After grabbing the Mega Mushroom, Toad grew to gigantic proportions and now has some added benefits like upgraded swing power and the ability to cover more ground. Mario and Luigi had better watch out with this Mega Toad on the court.

Love – 15: Well, that Mega Mushroom paid off, as Toad and Princess Peach scored the first point. Now the match is continuing, with Mario and Luigi volleying back and forth with Toad and Princess Peach. Uh oh. It looks like a glowing circle just appeared on the court. That's a Chance Area, which allows players to dish out even more powerful swings. Actually, this looks like an Ultra Smash Point, a large Chance Area that lets players activate a powerful Ultra Smash. Luigi stands on this Ultra Smash Point and CONNECTS! Ultra Smash unleashed! Point for Mario and Luigi (and some much-needed revenge).

15 – 15: Instead of Mario & Luigi vs. Toad & Princess Peach, many other fan-favorite characters from the Mushroom Kingdom could have been a part of this match, since Mario Tennis: Ultra Smash features a large cast of playable tennis stars, including three who are new to the series. Classic mainstays Mario, Luigi, Toad, Princess Peach, Daisy, Yoshi, Boo, Bowser, Wario, Waluigi, Donkey Kong, Bowser Jr. (for the first time in his Junior Clown Car) and Dry Bowser are joined by newcomers Sprixie Princess from Super Mario 3D World, Rosalina and Toadette. Oh, look, while giving you background on all the classic playable characters, Mario and Luigi just scored another point with a clean shot right over the net! Nice job, Mario and Luigi!

30 – 15: While this match continues to heat up, it might be a good time to quickly talk about the amazing amiibo functionality in Mario Tennis: Ultra Smash. (Nice return by Princess Peach!) Using a compatible amiibo figure, players can partner with their figure in an online doubles match! (Wow, look at Mario's backhand form!) In Knockout Challenge, another new mode in Mario Tennis: Ultra Smash, players team up with a compatible amiibo to get the longest winning streak against progressively tougher opponents. After five wins in this mode, the amiibo earns a Perk, which can be saved to the amiibo figure. More Perks make the amiibo even more powerful on the court. (And with that lob, Mario and Luigi score again!)

40 – 15: Here it is. Game, set, match point. Can Mario and Luigi pull it off? Leading up to this intense final, Mario and Luigi trained in many different modes in Mario Tennis: Ultra Smash. In addition to Mega Battle mode, they trained in Classic Tennis in Standard and Simple modes, two modes that remove the Mega Mushroom and offer a more traditional tennis experience. When playing Mega Ball Rally mode, they honed their skills by rallying back and forth as many times as possible as the huge Mega Ball got faster and faster. And of course there were a series of fun challenges that unlocked hidden content in the game. So Mario and Luigi had plenty of singles and doubles modes to practice their skills in Mario Tennis: Ultra Smash leading up to this moment. But the question is: As the match continues with the formidable Toad and Princess Peach, will all their training pay off? The crowd goes wild (well, as wild as crowds get at a tennis match), as Princess Peach picks up a Mega Mushroom. It looks like she and Toad are about to extend this match into at least one more point … BUT NO! Luigi once again stands on a Chance Area and launches a drop shot back to Toad and Princess Peach, who miss the shot mid-dive! Mario and Luigi win! Game. Set. Match!

Thank you so much for joining us today, ladies and gentlemen (and Yoshis). This tennis match was a real corker. If you want to duplicate the action you witnessed on the courts today, you can get Mario Tennis: Ultra Smash when it launches in stores, in the Nintendo eShop on Wii U and at Nintendo.com on Nov. 20 at a suggested retail price of $49.99. You can even take your skills online with players who also have an Internet connection. What an exciting day and what a glorious match. Congratulations to Mario and Luigi and an amazing effort from Toad and Princess Peach. And, now, a word from our sponsor:

"Mario Tennis: Ultra Smash combines the frenetic action of a high-energy tennis game with the familiar Nintendo characters people of all ages have fallen in love with," said Scott Moffitt, Nintendo of America's Executive Vice President of Sales & Marketing. "The Wii U game is an easy ace this holiday shopping season."

Source: Business Wire.
At NintendObserver, the comments are on Discord.
Click on Community to learn more. 🙂
…
…Wanna play? Buy a Wii U.
And if you've already got yours, click on Mario Tennis Ultra Smash for everything you need to know about the game. 😀