I chose the NoE press release for the UK overview trailer. I've provided a link to the NoA article as well. 
☆ NintendObs Weekly – Monday, October 5, 2015 – Sunday, October 11, 2015.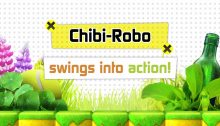 Here's the NoA press release for the game's impending launch in North America this Friday, October 9.
Plug in to Chibi-Robo! Zip Lash, the most electrifying adventure on Nintendo 3DS

Special bundle including an adorable Chibi-Robo amiibo alongside game on November 6th. 

Version française ici : Découvrez Chibi-Robo! Zip Lash, l'aventure la plus électrisante sur Nintendo 3DS. 😉

07/10/2015

7th October, 2015 – When Earth's resources are in danger from a mischievous group of aliens, there's only one robot with the skill to save the world! That robot's name is Chibi-Robo, and he's the star of the energetic new game Chibi-Robo! Zip Lash, launching exclusively for Nintendo 3DS family systems as a standalone game or bundled with a Chibi-Robo amiibo* on November 6th.

Chibi-Robo might be small in size, but his adventuring skills are as big as the most intrepid explorer! Using his plug and cord, Chibi-Robo can whip, grapple and swing his way through a huge side-scrolling platformer filled with dangerous enemies and clever environmental puzzles. By scanning the Chibi-Robo amiibo figure* that is available as part of a software bundle, players can access bonus features like the ability to power up to Super Chibi-Robo, supercharging your watts and speed for a limited number of times each day. Be sure to use it wisely!

Chibi-Robo! Zip Lash takes the much-loved Chibi-Robo series in a new direction. While previous games focused on completing chores in a third-person 3D environment, this new entry for Nintendo 3DS family systems is a classic side-scrolling adventure with a strong focus on discovery and exploration. In the game, Chibi-Robo travels through a variety of action-packed environments. Using his signature plug and cord, he can whip enemies, swing over chasms, ricochet shots and grapple to scale walls. By collecting boost balls, his cord can be extended, allowing Chibi-Robo to access previously out-of-reach areas and search for a variety of different collectibles, including many surprising real-world snacks. The game is overflowing with tons of collectibles to find, bosses to battle and hidden areas to discover.

In addition to activating Super Chibi-Robo, players can use Chibi-Capsule vending machine by scanning the Chibi-Robo amiibo to the New Nintendo 3DS and New Nintendo 3DS XL systems or Nintendo 3DS, Nintendo 3DS XL or Nintendo 2DS systems using the Nintendo 3DS NFC Reader/Writer accessory (sold separately). Located in the Chibi-House, this fun machine can only be accessed using the amiibo figure and unlocks items such as collectable in-game figurines and bonus stages. Additionally, players can also use other amiibo figures once each per day to earn spendable in-game coins.

Players can even level up the Chibi-Robo amiibo itself by recording in-game score data. By doing so, the number of times Super Chibi-Robo can be used per day will increase, starting from once a day and increasing as the amiibo levels up. Higher levels will also increase the likelihood of being able to unlock rarer items from the Chibi-Capsule vending machine.

Get ready to charge with Chibi-Robo! Zip Lash as it launches across Europe on November 6th as a standalone game or bundled with a Chibi-Robo amiibo*. Also available on the same day is a Chibi-Robo and the Toys theme, with which you can decorate your Nintendo 3DS HOME Menu. This cheerful theme stars pint-sized helper bot Chibi-Robo and his toy friends and is available to purchase through the Theme Shop on your Nintendo 3DS family system or available as a free bonus for those that purchase** Chibi-Robo! Zip Lash from Nintendo eShop.

For a full overview of Chibi-Robo's latest adventure, check out the extended trailer below.

— Nintendo UK News
Source: Nintendo UK.
At NintendObserver, the comments are on Discord.
Click on Community to learn more. 🙂
…
…Wanna play? Buy a 3DS.
And if you've already got yours, click on Chibi-Robo Zip Lash for everything you need to know about the game. 😀