Check out Nintendo's website for some secret LBX passwords. 
☆ NintendObs Weekly – Monday, August 31, 2015 – Sunday, September 6, 2015.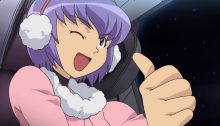 Version française ici : Little Battlers eXperience est désormais disponible en boutique et sur le Nintendo eShop. 😉

04/09/2015

Unleash powerful robots that fit in the palm of your hand in Little Battlers eXperience, out now exclusively on Nintendo 3DS family systems. Join a group of middle-school children as they band together to fight the forces of corruption using their tiny customisable robots, LBX.

There are millions of ways to create your own ultimate battle robot. Assemble your very own LBX from more than 4,000 unique parts that change not only the look but also the abilities and performance of your palm-sized contender as welll! How will you build yours?

Watch your LBX come to life in real-time battles as you lead the fight against the evil organisation known as the New Dawn Raisers in an epic adventure, or challenge your friends in local wireless multiplayer for up to six players.

Learn how you can customise your bot and dominate the Battlescape as an LBX champ at our Little Battlers eXperience website. Be sure to check out the new Unlockable Extras section to find out more about add-on content and get passwords that unlock exclusive in-game models and parts for your LBX!

Little Battlers eXperience is available from shops and as a downloadable version from Nintendo eShop now, only on Nintendo 3DS family systems.

— Nintendo UK News
Source: Nintendo UK.
At NintendObserver, the comments are on Discord.
Click on Community to learn more. 🙂
…
…Wanna play? Buy a 3DS.
And if you've already got yours, click on Little Battlers eXperience for everything you need to know about the game. 😀