And here's the grand winner of the Splatoon Art Contest: funkgamut.
☆ NintendObs Weekly – Monday, June 8, 2015 – Sunday, June 14, 2015.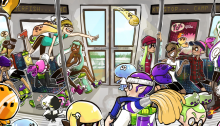 Congrats to funkgamut for being the grand prize winner in our Splatoon Art Contest! Here's what the Splatoon Dev Team had to say about this masterpiece:

Even though it doesn't show a scene from the game, our first prize goes to this masterful drawing which tells a story that could have come from the game itself.

This story portrayed here is one that all teenagers can probably relate to. After looking at it for a bit, the viewer starts to wonder about the relationship between the characters and what happened before and after the scene took place.

There are many elements found in this piece, but it's the wide-angle composition and the elegant use of color that really make the scene come to life. The concept combined with the technical aspects of this piece make it an extremely high-quality work of art.

— Squid Research Lab
Source: Splatoon's Tumblr.
At NintendObserver, the comments are on Discord.
Click on Community to learn more. 🙂
…
…Wanna play? Buy a Wii U.
And if you've already got yours, click on Splatoon for everything you need to know about the game. 😀