Now you can access Grand Prix mode on Mirror mode and 200cc without unlocking them.
☆ NintendObs Weekly – Monday, May 4, 2015 – Sunday, May 10, 2015.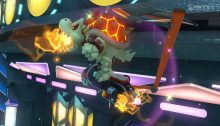 Hello Mario Kart 8 racers!

Have you updated your game today? Now, you can challenge Grand Prix mode on Mirror mode and 200cc mode, even if you haven't unlocked them!

I've been having a blast racing super-fast on the eight new tracks with new characters I got from the Mario Kart 8 DLC Pack 2. Isabelle is adorable as ever, and Dry Bowser's shell looks really cool too when it's lit up!

Find out more about the Mario Kart DLC packs from the link below.

Happy racing!

— Tom (NNID: NintendoTom)
Source: Miiverse.
At NintendObserver, the comments are on Discord.
Click on Community to learn more. 🙂
…
…Wanna play? Buy a Wii U.
And if you've already got yours, click on Mario Kart 8 for everything you need to know about the game. 😀