The first-ever Humble Bundle in the video game console space is on Nintendo.
☆ NintendObs Weekly – Monday, May 25, 2015 – Sunday, May 31, 2015.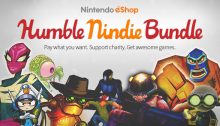 05.26.15

Nintendo of America and Humble Bundle have teamed up to deliver the first-ever Humble Bundle for console and handheld games. The Humble Nindie Bundle presented by Nintendo eShop delivers multiple indie games for Nintendo's Wii U home console and Nintendo 3DS family of portable systems. It benefits Code.org, a nonprofit organization dedicated to expanding participation in computer science, particularly by women and underrepresented students of color.

With this partnership, Nintendo of America and its digital storefront, the Nintendo eShop, continue to focus on quality digital content by making these must-own games digitally accessible to the Humble audience. The Humble Nindie Bundle presented by Nintendo eShop will be available starting Tuesday, May 26, 2015, at 11 a.m. Pacific time and ends on Tuesday, June 9, 2015, at 11 a.m. Pacific time.

The Nintendo indie games (or Nindies) in the Humble Nindie Bundle include Guacamelee! Super Turbo Championship Edition from DrinkBox Studios, Mighty Switch Force from WayForward Technologies and Woah Dave! from Choice Provisions.

Customers who pay more than the average price will receive all of the above games, plus The Fall from Over the Moon Games, OlliOlli from Curve Studios and Moon Chronicles from Renegade Kid.

Customers who pay $10 or more will get all of that plus Stealth Inc. 2 from Curve Digital and SteamWorld Dig from Image & Form.

As with all Humble Bundles, customers can choose how their purchase dollars are allocated between the developers and the participating charity.

More games will be announced mid-promotion once new titles are added. Check out the full promotion at https://www.humblebundle.com/.

"Nintendo and Humble share passion and enthusiasm for indie games," said Damon Baker, Nintendo of America's Senior Manager of Publisher and Developer Relations. "This is an incredible opportunity to promote our talented Nindie community while supporting a great cause."

"We could not be more excited to be working with Nintendo on the Humble Nindie Bundle," said John Graham, co-founder of Humble Bundle. "This is the first time ever that Humble Bundle has launched a bundle in the video game console space and to do so with Nintendo and a great lineup of premium indie games is beyond awesome."

Participating titles:

Wii U:

Nintendo 3DS:

— Nintendo What's New
Source: Nintendo.
At NintendObserver, the comments are on Discord.
Click on Community to learn more. 🙂
…
…Wanna play? Buy a Wii U.
And if you've already got yours, here are all the games already available on the platform. 😀