This quote right here: "In the belief that the true value of entertainment lies in individuality."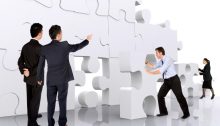 Analysis of Operations
(1) Fiscal year ended March 31, 2015

Nintendo Co., Ltd. ("the Company") and its consolidated subsidiaries (together with the Company,"Nintendo") continues to pursue its basic strategy of "Gaming Population Expansion" by offering compelling products that anyone can enjoy, regardless of age, gender or gaming experience.

During the fiscal year ended March 31, 2015, for "Nintendo 3DS (3DS, 3DS XL, 2DS, New Nintendo 3DS and New Nintendo 3DS XL)," "New Nintendo 3DS/New Nintendo 3DS XL," launched as the newest members of the "Nintendo 3DS" family, got off to a good start and continued to sell well, while the sales of the "Nintendo 3DS" hardware prior to the launch of "New Nintendo 3DS/New Nintendo 3DS XL" did not grow as anticipated, and the global sales of the "Nintendo 3DS" family hardware were 8.73 million units. As for the "Nintendo 3DS" software, "Pokémon Omega Ruby/Pokémon Alpha Sapphire" and "Super Smash Bros. for Nintendo 3DS" enjoyed robust sales with 9.94 million units and 6.75 million units sold respectively, while titles such as "Tomodachi Life," "Mario Kart 7," and "The Legend of Zelda: Majora's Mask 3D" also showed steady sales, with all three titles selling more than 2 million units each. There were also a number of hit titles from third-party publishers. As a result, the global sales of the "Nintendo 3DS" software were 62.74 million units.

With respect to "Wii U," Nintendo released two hit titles, "Mario Kart 8" and "Super Smash Bros. for Wii U," which enjoyed robust sales of 5.11 million units and 3.65 million units respectively. These titles continued to perform well especially overseas, and the global sales of the "Wii U" hardware and software reached 3.38 million and 24.40 million units respectively.

Net sales as a result were 549.7 billion yen (of which overseas sales were 414.7 billion yen or 75.4% of the total sales) and operating income was 24.7 billion yen. As a result of foreign exchange gains totaling 34.0 billion yen due to depreciation of the yen against the U.S. dollar at the end of the period compared to the exchange rate at the end of the previous fiscal year, ordinary income was 70.5 billion yen and net income was 41.8 billion yen.

(2) Outlook for fiscal year ending March 31, 2016

For "Nintendo 3DS" and "Wii U," in addition to maintaining the performance of already-released titles with strong sales potential, new titles will continue to be introduced in order to further expand the installed bases. Specifically, by sequentially introducing additional download content for blockbuster titles such as "Mario Kart 8" and "Super Smash Bros. for Nintendo 3DS/Wii U," we aim to keep these titles played more actively. For "Nintendo 3DS," the exclusive "New Nintendo 3DS/New Nintendo 3DS XL" title "Xenoblade Chronicles 3D," and other first party titles such as "Rhythm Tengoku (temp.)" and "New Fire Emblem Game (temp.)" will be released. In addition, a number of key titles from thirdparty publishers are scheduled for release. For "Wii U," in addition to titles such as "Splatoon" and "Yoshi's Woolly World," "Mario Maker (temp.)" which offers a new taste to the 2D Mario series will be released this year marking the 30th year since the launch of the original "Super Mario Bros." game.

Meanwhile, for "amiibo," which was launched last year, new "amiibo" cards and yarn-knitted "amiibo" will be added to the "amiibo" lineup. We aim to stimulate demand for "amiibo" by expanding compatible software titles and by releasing the Nintendo 3DS NFC Reader/Writer accessory for Nintendo 3DS, Nintendo 3DS XL and Nintendo 2DS.

In addition, a new source of revenue is expected from a gaming application for smart devices which will be released this year.

Based on these efforts, we project, for the fiscal year ending March 31, 2016, net sales of 570.0 billion yen, an operating income of 50.0 billion yen, an ordinary income of 55.0 billion yen and profit attributable to owners of parent of 35.0 billion yen. Unit sales of the major products used for the forecast are listed on page 16 under the heading of "(5) Consolidated sales units, number of new titles, and sales units forecast" in the "Others" section. Exchange rate assumptions for the major currencies used for the forecasts are 120 yen per U.S. dollar and 125 yen per euro.

— Nintendo Investor Relations
Source: Nintendo JP.
Management Policy
(1) Basic management policy

Nintendo strives to create new and unique forms of entertainment while maintaining a robust business structure. Nintendo places the highest emphasis on providing consumers with innovative entertainment that has never been experienced.

(2) Targeted management index 

Nintendo aims to improve its corporate value by providing new and entertaining products consistently and sustaining robust growth and increasing profit. Because Nintendo deals with entertainment products, which by nature hold many uncertainties in terms of their product development, and operates in a market which involves intense competition, flexible business decisions are made without being constrained by any specific management index.

(3) Medium and long-term management strategy and challenges

In the belief that the true value of entertainment lies in individuality, Nintendo continues to provide unique products and services by positioning as its core business strategy the dedicated video game platform business of hardware and software integration. Moving forward, Nintendo will continue to offer premium gameplay experiences on Nintendo's dedicated game platforms. Furthermore, a new game business which utilizes Nintendo IP on smart devices will start rolling out this year. As control methods and game play environments differ between dedicated video game platforms and smart devices, even if the same IP is used for both platforms, the games will not be the same; they will be optimized for each platform. In this way, Nintendo will maximize the value of its IP by encouraging a broader audience to experience its appeal and drive the expansion of the gaming population.

For Nintendo IP, a more active approach will be taken in areas outside the video game business, including visual content production and character merchandising. By flexibly selecting the optimal method of communication for each individual IP in order to increase visibility for a wider audience, a certain level of revenue from the IP licensing business is expected and at the same time we aim to increase the opportunity for more consumers to become familiar with our games.

Moreover, by redefining entertainment as something that improves people's QOL (Quality of Life) in enjoyable ways, Nintendo aims to deploy a new platform business that improves people's QOL in enjoyable ways in a new area that is different from that of dedicated video game systems. For the QOL business, a unique approach will be taken by utilizing Nintendo's strength as an entertainment company.

With its mission to put smiles on the faces of everyone it touches, Nintendo will continue to offer new and unique propositions.

— Nintendo Investor Relations
Source: Nintendo JP.
At NintendObserver, the comments are on Discord.
Click on Community to learn more. 🙂
…
…Wanna play? Buy a Wii U.
And if you've already got yours, here are all the games already available on the platform. 😀