This April Direct's European press release. (Lien français dans l'article.)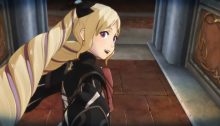 Version française ici : Nintendo dévoile de nouveaux jeux Wii U et Nintendo 3DS, des mises à jour sur des titres actuels et une foule de nouveaux amiibo. 😉

01/04/2015

1st April 2015 – During a Nintendo Direct presentation aired today, Nintendo revealed brand new details about games in its line-up for 2015 and beyond, plus news about major updates to games that fans are already enjoying, as well as the latest on all things amiibo.

Revealed for the first time today, in autumn Animal Crossing fans will be able to put their home-design skills to the test in the newly announced Animal Crossing: Happy Home Designer. Meanwhile, a totally new form of amiibo, "amiibo cards", will also launch in autumn, with the first set of cards featuring Animal Crossing characters. By using the first set of amiibo cards in Animal Crossing: Happy Home Designer, players can enjoy a whole new Animal Crossing gameplay experience.

Today's Nintendo Direct once again confirms Nintendo's commitment to provide premium content updates to players and fans of games already released and being enjoyed by millions. A free update available to every Mario Kart 8 owner brings the brand new 200cc racing class to all courses. The fastest class ever in the history of Mario Kart adds a whole new dimension of challenge to the game, even for the most seasoned series veterans. Along with major add-on content and updates announced for Super Smash Bros. for Wii U and Nintendo 3DS and StreetPass Mii Plaza, players can keep enjoying their favourite games.

The Nintendo Direct is jam packed with additional details on many of Nintendo's eagerly awaited forthcoming releases, such as confirmed release dates for Splatoon and Yoshi's Woolly World, more on Mario Maker and the announcement of celebrations for the 30th anniversary of Super Mario Bros., plus the next Fire Emblem game. New games announced today include BOXBOY!, a charming puzzle-platform game from the creators of Kirby that is available now from Nintendo eShop for Nintendo 3DS, and a new instalment in the chilling and supernatural Project Zero series for Wii U.

— Nintendo UK News
Source: Nintendo UK.
At NintendObserver, the comments are on Discord.
Click on Community to learn more. 🙂
…
…Wanna play? Buy a Wii U.
And if you've already got yours, here are all the games already available on the platform. 😀