Mighty No. 9 launching September 15 in North America, September 18 in Europe.
☆ NintendObs Weekly – Monday, April 27, 2015 – Sunday, May 3, 2015.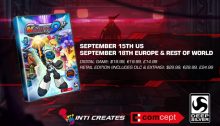 FOR AN EVEN MIGHTIER NO. 9, DEEP SILVER AND COMCEPT TEAM UP TO ADD MORE VALUE

Mighty No. 9 will be available as retail and digital version on 15th September in the Americas and 18th September worldwide

Planegg, March 31, 2015

Comcept and Deep Silver today announced their partnership for Comcept"s upcoming side-scrolling action game and Kickstarter sensation, Mighty No. 9. Created by Keiji Inafune − the "father of Mega Man" − Comcept and Japanese co-developer Inti Creates, Mighty No. 9 will be available on 15th September 2015 in the Americas and on 18th September 2015 worldwide as a digital download as well as physical retail version for Xbox One, the all-in-one games and entertainment system from Microsoft, PlayStation®4, Wii UTM, PC, Linux and Mac as well as digital only on the Xbox 360 games and entertainment system from Microsoft and PlayStation®3. Portable versions for PlayStation® Vita and Nintendo 3DS™ will follow at a later point.

This co-operation allows Comcept to not only broaden the audience for Mighty No. 9 by bringing the game to retail, but also provides them with additional resources to add significant value for both existing Kickstarter backers and new players alike. This includes:

An all-new stage including an epic battle with Beck"s rival Ray that, upon completion, unlocks Ray as a playable character for the entire main game, adding unique skills and all-new gameplay mechanics. The stage will be available as additional downloadable content, adding huge replay value. This extra content will be included in the retail editions and will be offered free of charge to all backers of the project at the launch of the game.

Japanese and French voice-overs have been recorded and will be added to all versions of the game alongside the already planned English VO.

Deep Silver will provide localized versions with subtitles in English, Spanish, French, Italian, German, Russian, Polish an Brazilian Portuguese.

While Comcept remains the owner of the Mighty No. 9 brand, the two companies will join their forces to effectively market and distribute the game, with Deep Silver spearheading the sales area and also assisting Comcept in the QA testing of the game.

"This is a great opportunity for Comcept: The partnership enables us to deliver Mighty No. 9 to a wider audience while adding some great extra value to the game," says Keiji Inafune, CEO, Comcept. "This comes with the price of a short delay, but we are confident that the extra content is worth the wait."

"The incredibly successful Kickstarter campaign for Mighty No. 9 through Keiji Inafune and his team has shown how huge their fan base is and how much anticipation there is for a true spiritual successor of classic side-scrolling action games. Deep Silver is proud to publish this game and help Comcept in bringing their vision to life," comments Klemens Kundratitz, CEO, Deep Silver.

— Deep Silver
Source: Dropbox via Mighty No. 9's Kickstarter.
At NintendObserver, the comments are on Discord.
Click on Community to learn more. 🙂
…
…Wanna play? Buy a Wii U.
And if you've already got yours, click on Mighty No. 9 for everything you need to know about the game. 😀