I'm getting Guacamelee that's for sure.
☆ NintendObs Weekly – Monday, January 12, 2015 – Sunday, January 18, 2015.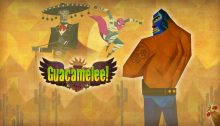 Version française ici : Offre Nintendo eShop : Promotion Super Indie Connection 2. 😉

12/01/2015

You can download new games, applications and other content to your Wii U or Nintendo 3DS, directly from Nintendo eShop. New titles are added regularly, and sometimes there are special discounts to discover, too!

Take a look at the latest digital download deals and grab a bargain from Nintendo eShop for a limited time! Check below for more details on participating titles.

The developers of these five indie games love each others' games so much, they offer you their own game at 60% off the regular Nintendo eShop price if you have already downloaded any of the other participating games on your Wii U!

If you own any of the participating titles on your Wii U now – or buy one from Nintendo eShop during the Super Indie Connection Sale #2 – you can purchase the participating titles you don't own yet for 60% off the regular Nintendo eShop price*. The discount will be applied automatically.

Wii U download software

Teslagrad

With over a hundred levels of retro, 2D platforming set in a non-linear world, plus Machiavellian puzzles galore, your mental and physical reflexes will be tested to capacity in Teslagrad, available to download from Nintendo eShop on Wii U.

Guacamelee! Super Turbo Championship Edition

As Juan Aguacate, a wrestler from a small Mexican village, you've hit rock bottom. But when the evil Carlos Calaca plans to sacrifice El Presidente's Daughter in order to seize power, Juan vows to rescue her by travelling through alternative dimensions to battle a multitude of bony baddies, each and every one cruising for a bruising!

SteamWorld Dig

SteamWorld Dig is a platform mining adventure. Take the role of Rusty, a lone mining steambot, as he arrives at an old mining town in great need. Dig your way through the old earth, gaining riches while uncovering the ancient threat that lurks below…

Chasing Aurora

Set amongst a breath-taking vector graphics version of the Alps, and with an original soundtrack to play along to, Chasing Aurora invites you to swoop into a world of unique pop-up book style environments and experience the Wii U console's asymmetric multiplayer capabilities. As well as the single-player mode there are three different multiplayer modes, so there's plenty of fun for all!

Swords & Soldiers

The funniest action-strategy game you'll ever play! Command an army of Vikings in their quest to create the ultimate BBQ sauce, lead the Aztecs in defence of the Holy Pepper, and build an array of explosive Chinese toys! Build your own forces and defeat your foes using berserkers, dart blowers, giant boulders, ninja monkeys (yes – ninja monkeys!) and many more!

BIT.TRIP Presents… Runner 2: Future Legend of Rhythm Alien

In CommanderVideo's first Wii U outing, the beats are just as important as the bosses. Rhythm and action fuse together in an auto-running platformer packed with the BIT.TRIP series' unmistakable retro charm. You'll need fast reflexes and fantastic rhythm to clear its five worlds as you run, jump, slide, kick and soar toward the goal in over 100 levels, and put your skills to the ultimate test as you shoot for perfect scores.

— Nintendo UK News
Source: Nintendo UK.
At NintendObserver, the comments are on Discord.
Click on Community to learn more. 🙂
…
…Wanna play? Buy a Wii U.
And if you've already got yours, here are all the games already available on the platform. 😀