Captain Toad Doctor, Captain Toad everything. Draw your own iteration of Captain Toad. 🙂
☆ NintendObs Weekly – Monday, December 15, 2014 – Sunday, December 21, 2014.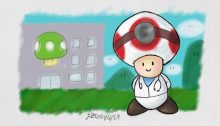 Hi everyone, it's MariChan here!

After years playing the supporting role, Captain Toad is finally getting his turn in the spotlight. But is he really going to be OK all on his own…? To mark the occasion, we're having a drawing contest celebrating Captain Toad: Treasure Tracker for Wii U.

The theme is "Captain Toad: [BLANK]"!

So whether it's "Captain Toad: Fashion Icon" or "Captain Toad: Adventurer in Peril", we want to see your drawings of all different sorts of Captain Toad.

Guidelines:

Pictures must be drawn using Art Academy: SketchPad, which is available for purchase in Nintendo eShop.

Pictures must have a Captain Toad: Treasure Tracker theme.

Entries are limited to one original work per person.

Comment on this post to submit your entry.

Remember, this is a worldwide event, so please avoid using writing in your pictures.

The submission period will end on 12 January 2015 or when the number of comments reaches 1000, whichever comes first.

The development team will choose their favourite entries based on the skill, artistic expression, originality and creativity of the author. Those favourite entries will be announced in this community.

If you don't have Art Academy: SketchPad, we'd still love for you to participate to the fullest by giving a Yeah! to any picture you think is cool.

Finally, ideas count as much as talent, so even if you're not a master painter, don't be shy – show us those pictures!

Note: If you submit a drawing as a comment to this post, you grant Nintendo the royalty-free right to publish your drawing online and offline.

Your drawing must be an original work of your own creation. You may include Nintendo logos, brand names and products in your drawing. There should not be any products, logos or brands belonging to other companies included.

— MariChan (NNID: NintendoMchannel)
Source: Miiverse.
At NintendObserver, the comments are on Discord.
Click on Community to learn more. 🙂
…
…Wanna play? Buy a Wii U.
And if you've already got yours, click on Art Academy SketchPad for everything you need to know about the game. 😀