Download the free app on the eShop before December 22.
☆ NintendObs Weekly – Monday, December 8, 2014 – Sunday, December 14, 2014.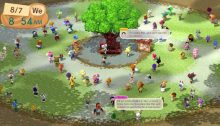 It's already December, and that means only a few weeks left before the Animal Crossing Plaza service comes to an end. I want to take this opportunity to thank everyone who's downloaded and enjoyed Animal Crossing Plaza! And to those of you who haven't – why not take this final chance? Animal Crossing Plaza will remain available on Nintendo eShop until 22nd December 2014.

The end of the Animal Crossing Plaza service also means that after 31st December the monthly themed surveys will stop, and it will no longer be possible to post to the Animal Crossing Series Community. From next year on, you will only be able to view existing posts in the community. So, please take the chance to post to your heart's content in the coming days, and be sure to vote in the final survey, which will decide who was the neighbour of the year in 2014!

Even though you won't be able to post to the community anymore, you will still be able to visit all your favourite characters in the plaza after the service finishes, as long as you have already downloaded Animal Crossing Plaza. So be sure to drop by whenever it takes your fancy – don't be a stranger!

We're also going to continue posting news related to the series here in the Animal Crossing News Community, so stay tuned for more information about Animal Crossing next year!

— Kyogoku (NNID: NintendoKyogoku)
Source: Miiverse.
At NintendObserver, the comments are on Discord.
Click on Community to learn more. 🙂
…
…Wanna play? Buy a Wii U.
And if you've already got yours, click on Animal Crossing for everything you need to know about the franchise. 😀