Unlocking Wonder-Bayonetta.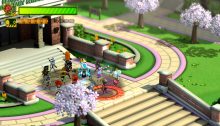 Hey everyone, how've you been?

It's me! Hideki Kamiya, director of The Wonderful 101! It's been a while since the game was released, but there are still a lot of wonderful people making new posts in this community, and I always have a blast reading through them.

I talked a bit about on our blog about how to unlock secret characters using cheat codes. In case you missed the post, check the link below.

http://platinumgames.com/2014/11/06/w101-super-secret-codes/

Beware though that just entering these cheat codes will not be enough. You'll need to expend O-Parts as well. If you've poured a lot of time into this game, you should already have a healthy amount of O-Parts, but if you don't, you should stock up before trying these codes (plus, playing the game more will make you better at it, so that's two birds with one stone!).

Well, I think I've told you enough for today.

I hope you will keep playing The Wonderful 101 for as long as your thumbs hold out!

Please let us know your thoughts on the game too!

— PG_kamiya (NNID: PG_kamiya)
Source: Miiverse.
At NintendObserver, the comments are on Discord.
Click on Community to learn more. 🙂
…
…Wanna play? Buy a Wii U.
And if you've already got yours, click on The Wonderful 101 for everything you need to know about the game. 😀