Wii U version Tips.
☆ NintendObs Weekly – Monday, October 13, 2014 – Sunday, October 19, 2014.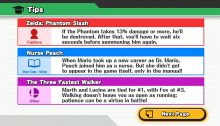 Pic of the day. Tips will display in three columns in the Wii U version. There's more content, which includes descriptions of the original games. This game seems to never run out of easter eggs, even if you play it normally. Knowing that this will get translated into multiple languages, I shouldn't go overboard with the contents, though…

— Sakurai (NNID: SakuraiMasahiroA)
Source: Miiverse.
At NintendObserver, the comments are on Discord.
Click on Community to learn more. 🙂
…
…Wanna play? Buy a Wii U.
And if you've already got yours, click on Super Smash Bros. for Wii U for everything you need to know about the game. 😀