Man, that's intense!!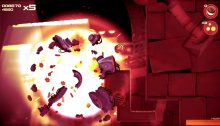 It's been a while since we released the announcement trailer for our upcoming shooter game RIVE. Time to show you some new footage!

We've been relatively quiet lately, but we've been super busy visiting a number of expositions to demo RIVE. We've been to Gamescom, Tokyo Game Show, INDIGO and the EGX. In the meantime we obviously continued working on the game, as can be shown in the first official gameplay trailer! Enjoy!

— Martijn (NNID: mreuvers)
Source: Miiverse.
At NintendObserver, the comments are on Discord.
Click on Community to learn more. 🙂
…
…Wanna play? Buy a Wii U.
And if you've already got yours, click on Rive for everything you need to know about the game. 😀