Playable Rodin and an exclusive-to-Europe Bayonetta 2 First Print Edition.
☆ NintendObs Event – Bayonetta 2 Direct.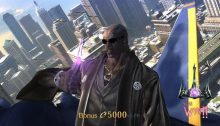 Version française ici : Bayonetta 2 sortira sur Wii U le 24 octobre et la Première édition de Bayonetta 2 est annoncée pour l'Europe. 😉

05/09/2014

5th September 2014 – A new Nintendo Direct video detailed some of the exhilarating aspects of Wii U exclusive Bayonetta 2, and announced the European launch date of 24th October. Nintendo also unveiled the Bayonetta 2 First Print Edition, which is exclusive to Europe and houses disc versions of Bayonetta 2 and the Wii U Bayonetta remake. It also includes The Art of Bayonetta 2 art book, all in special 3D embossed leather-effect packaging that faithfully recreates The Hierarchy of Laguna, the book of angels that documents the angelic foes Bayonetta meets on her adventures, making this a striking edition for devotees of the Umbra Witch.

At launch, European fans will have three retail editions to choose from: the newly announced First Print Edition, the Special Edition which bundles disc versions of Bayonetta 2 and Bayonetta together, or the solus edition which includes just Bayonetta 2. In addition, digital versions of Bayonetta 2 and Bayonetta can be purchased on Nintendo eShop at launch, and those who buy one title can obtain the other one at a discounted price.

Nintendo also announced for the first time that the cosplay costumes available in the Wii U remake of Bayonetta will also be available in Bayonetta 2. These include Bayonetta's wild takes on Princess Peach, Link and Samus, and – exclusive to Bayonetta 2 – a surprise star mercenary is also featured in her wardrobe in an outfit reminiscent of Fox McCloud, the hero of the Star Fox games.

Furthermore, the Nintendo Direct revealed Rodin as a playable character in Tag Climax, Bayonetta 2's new online co-op mode, and showed off the first footage of multiplayer action.

The Nintendo Direct also provided more details about previously announced features of Bayonetta 2, including characters, storyline, combat mechanics, weapons, magic, Bayonetta's trademark Torture Attacks and the new Umbran Climax. Viewers learned about Muspelheim challenge rooms, how the ranking system works, and how to spend their hard-fought Halos to buy items and skills, or modify weapons. It's a must-watch for anyone who wants to be ready to take down their opponents in style.

For a first look at the European-exclusive First Print Edition, head over to the Nintendo Direct website or the official Bayonetta 2 teaser site.

— Nintendo UK News
Source: Nintendo UK.
At NintendObserver, the comments are on Discord.
Click on Community to learn more. 🙂
…
…Wanna play? Buy a Wii U.
And if you've already got yours, click on Bayonetta 2 for everything you need to know about the game. 😀