Better get your fighters ready: this is for real.
☆ NintendObs Weekly – Monday, September 22, 2014 – Sunday, September 28, 2014.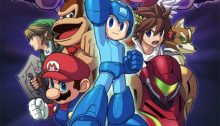 NATIONAL TOURNAMENT SERIES CELEBRATING SUPER SMASH BROS. FOR NINTENDO 3DS LAUNCH KICKS OFF OCT. 4

Sept. 25, 2014

Fans that have what it takes to compete with the best Super Smash Bros. players in the country are about to get a chance to win a trip to New York to show off their skills. On Saturday, Oct. 4, a day after the Super Smash Bros. for Nintendo 3DS game launches in stores and in the Nintendo eShop on Nintendo 3DS, 15 GameStop stores around the country (as well as the Nintendo World store in New York) will host local tournaments for the newly launched all-star fighting game featuring three rounds of four-player battles.

Participants for the 64-player local tournaments on Oct. 4 are selected on a first-come, first-served basis with no pre-registration required. Participants may bring their own Nintendo 3DS or Nintendo 2DS systems and/or Super Smash Bros. for Nintendo 3DS games to the tournaments, but are not required to do so.

The winners of each local tournament will win a trip to New York to participate in the Super Smash Bros. for Nintendo 3DS National Open Tournament at Nintendo World on Oct. 11, which will be broadcast live on Nintendo's channels on Twitch and YouTube starting at 6 p.m. ET. During the Super Smash Bros. for Nintendo 3DS National Open Tournament, character customization will play an important role in the action, allowing the top 16 players to engage in an all-out, no-holds-barred battle showcasing all the game has to offer.

The winner of the final tournament will not only bask in the glory of victory, but also win a trophy and champion's robe. Additional details on how fans can attend the event at Nintendo World will be announced in the future. Nintendo World will also be giving fans an opportunity to purchase Super Smash Bros. for Nintendo 3DS before its nationwide launch. Starting at 8 p.m. ET on Oct. 2, Nintendo World will host a smashing fan gathering, allowing attendees to be among the first to purchase Super Smash Bros. for Nintendo 3DS.

Each local tournament will begin at 11 a.m. local time on Oct. 4. The participating locations and starting times for each local tournament are as follows:

Location
Address
GameStop
Winfield Shopping Center
966 Blossom Hill Road


San Jose, CA 95123

GameStop
Anaheim Town Center
2004 East Lincoln Ave.


Anaheim, CA 92806

GameStop
c/o Barnes & Noble
960 S. Colorado Blvd.


Denver, CO 80246

GameStop
The Brickyard S/C
6451 W. Diversey Parkway, Suite G-9


Chicago, IL 60707

GameStop
Dedham Mall
336 Providence Highway


Dedham, MA 02026

GameStop


St. John's Plaza

9150 Baltimore National Pike, Suite 16


Ellicott City, MD 21042

GameStop


SWM Skibo S/C

1590 Skibo Road


Bonnie Doone, NC 28303

GameStop


32 E. 14th Street

32 E. 14th St.


New York, NY 10003

GameStop


Bellevue Square

242 Bellevue Square


Bellevue, WA 98004

GameStop


Tower Shops

2140 S. University Drive


Davie, FL 33324

GameStop


Lake Brandon Shoppes

11025 Causeway Blvd.


Brandon, FL 33511

GameStop


SWM Sand Lake Corner

8115 S. John Young Parkway


Orlando, FL 32819

GameStop


Chamblee Village

1841 Chamblee Tucker Rd., Suite 3A


Chamblee, GA 30341

GameStop


c/o Barnes & Noble

3003 W. Holcombe Blvd.


Houston, TX 77025

GameStop


c/o Barnes & Noble

2201 Preston Rd., Suite E


Plano, TX 75093

Nintendo World

10 Rockefeller Plaza


New York, NY 10020

On Sept. 27, to give fans time to practice for the main event, 100 GameStop locations around the country (including the 15 listed above) will offer visitors the opportunity to enjoy the same demo version of the game that is currently available in the Nintendo eShop.

Additional terms and conditions apply to the Super Smash Bros. for Nintendo 3DS National Open Tournament series. For full rules and details, visit http://smashbros.nintendo.com/rules/.

— Nintendo Press Room
Source: Press Nintendo.
At NintendObserver, the comments are on Discord.
Click on Community to learn more. 🙂
…
…Wanna play? Buy a 3DS.
And if you've already got yours, click on Super Smash Bros. for Nintendo 3DS for everything you need to know about the game. 😀