Cuccos all day, every day.
☆ NintendObs Weekly – Monday, September 22, 2014 – Sunday, September 28, 2014.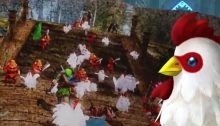 Hello, this is Yosuke Hayashi, the Development Producer for Hyrule Warriors from Koei Tecmo Games. Hyrule Warriors is finally available in North America! This game is a crossover between The Legend of Zelda series and the Dynasty Warriors series where you play as a variety of unique and colorful characters from the Zelda universe.

By using elements from the world of Zelda, we've created a new gaming experience that is unique, even for those familiar with the Warriors series. Many of the developers are fans of The Legend of Zelda series, and we stuffed all of our fond memories of playing games from the Zelda universe into Hyrule Warriors. One of those memories includes the Cuccos, which were featured in one of our previous videos. If you're a Zelda fan, remember to try giving the Cuccos a whack when you get the chance.

There are many other elements to this game that Zelda fans will definitely recognize, so I hope you'll look for them while you play. We're also planning to release more updates in the future, so please look forward to them!

— tn_hayashi (NNID: ninja_hayashi)
Source: Miiverse.
At NintendObserver, the comments are on Discord.
Click on Community to learn more. 🙂
…
…Wanna play? Buy a Wii U.
And if you've already got yours, click on Hyrule Warriors for everything you need to know about the game. 😀