Pachirisu MVP. Gardevoir chef de projet.
☆ NintendObs Weekly – Monday, August 18, 2014 – Sunday, August 24, 2014.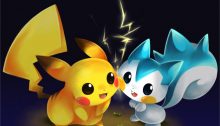 The New Pokémon World Champions Have Been Crowned!

Congratulations to the six new Pokémon TCG and video game players who have earned the title of World Champion!

Aug 17, 2014

Andrew Estrada (CA)

— Pokémon News
Source: Pokémon.
At NintendObserver, the comments are on Discord.
Click on Community to learn more. 🙂
…
And if you've already got yours, click on Pokémon X and Y for everything you need to know about the games. 😀