The Camp taking it in karting on San Diego Comic-Con.
☆ NintendObs Weekly – Monday, July 21, 2014 – Sunday, July 27, 2014.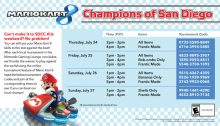 Campers, I'm posting details of the weekend-long Mario Kart 8 tournament that starts tomorrow now so you can get ready.

Nintendo will be at San Diego Comic-Con where there will be a local challenger who will try to come out on top. Your challenge, campers will be to join and see if you can make it to the top on one of the tournaments, and better yet, beat the San Diego Challenger!

Check out the image for the tournament schedule and codes. I'll post details on how to post your results tomorrow before we begin, so in the meanwhile register the codes for the tournaments that you can join!

The first tournament starts tomorrow 7/24 at 2pm PT!

Good luck campers, and happy racing!

— Tom (NNID: NintendoTom)
Source: Miiverse.
At NintendObserver, the comments are on Discord.
Click on Community to learn more. 🙂
…
…Wanna play? Buy a Wii U.
And if you've already got yours, click on Mario Kart 8 for everything you need to know about the game. 😀