Something's gotta be in the works in eSports for Mario Kart 8.
☆ NintendObs Weekly – Monday, May 26, 2014 – Sunday, June 1, 2014.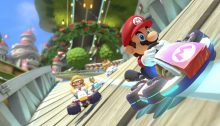 Directly to you from Twitter:
https://twitter.com/DRU192/status/471019849368748032
https://twitter.com/DRU192/status/471020580675002368
Then I came in:
Spurring a competitive Mario Kart discussion which ended on the following note from TriForce himself:
---
Mario Kart 8. This Summer. Empire Arcadia. The mistery deepens.
Make sure to remember that Mario Kart 8 comes out this Friday May 30 in Europe and North America. My countdown on NintendObserver has already started. 😀
At NintendObserver, the comments are on Discord.
Click on Community to learn more. 🙂
…
…Wanna play? Buy a Wii U.
And if you've already got yours, click on Mario Kart 8 for everything you need to know about the game. 😀